Event report
The primary immunodeficiency group with the Department of Immunology, 2nd Faculty of Medicine, Charles University and University Hospital in Motol organized an international meeting of clinicians and researchers working in the field of primary immunodeficiencies, which took place in Kutna Hora from May 11th to May 13.
We welcomed 20 participants from Denmark, Romania, Poland, Croatia, Italy, Turkey, Lithuania and of course the Czech Republic, who presented clinical cases and research under the tutelage of faculty leaders from Estonia, Germany and Czechia. Prof. Rizzi presented her group's work on autoimmune lymphoproliferative syndrome (ALPS) and the role of extrafollicular B cell response, prof. Kisand gave an overview of the autoimmune phenomena stemming from thymic disorders, prof. Hauck shared with us their recent discovery of a new patient with monogenic systemic lupus erythematosus, and prof. Kalina illustrated the utility of flow cytometry for diagnosis and research of inborn errors of the immunity.
To stretch our legs in between presentations and appreciate the beauty of the medieval city of Kutna Hora we took part in a tour through the former silver mines (see pictures at the bottom of this page) and wrapped up the second day of talks at a mesmerizing organ concert in the St. Barbara cathedral.
All of us from Czechia and from abroad are thankful to have had this opportunity to learn from each other and see how patient care is lead in different countries with different healthcare systems. We appreciate the financial support of the Jeffrey Modell Foundation and Octapharma which made this event possible and hope to organize this unique meeting again next year, with equally great faculty and more colleagues from across Europe.
TWITTER: https://twitter.com/immuno_prague, @immuno_prague
Meeting information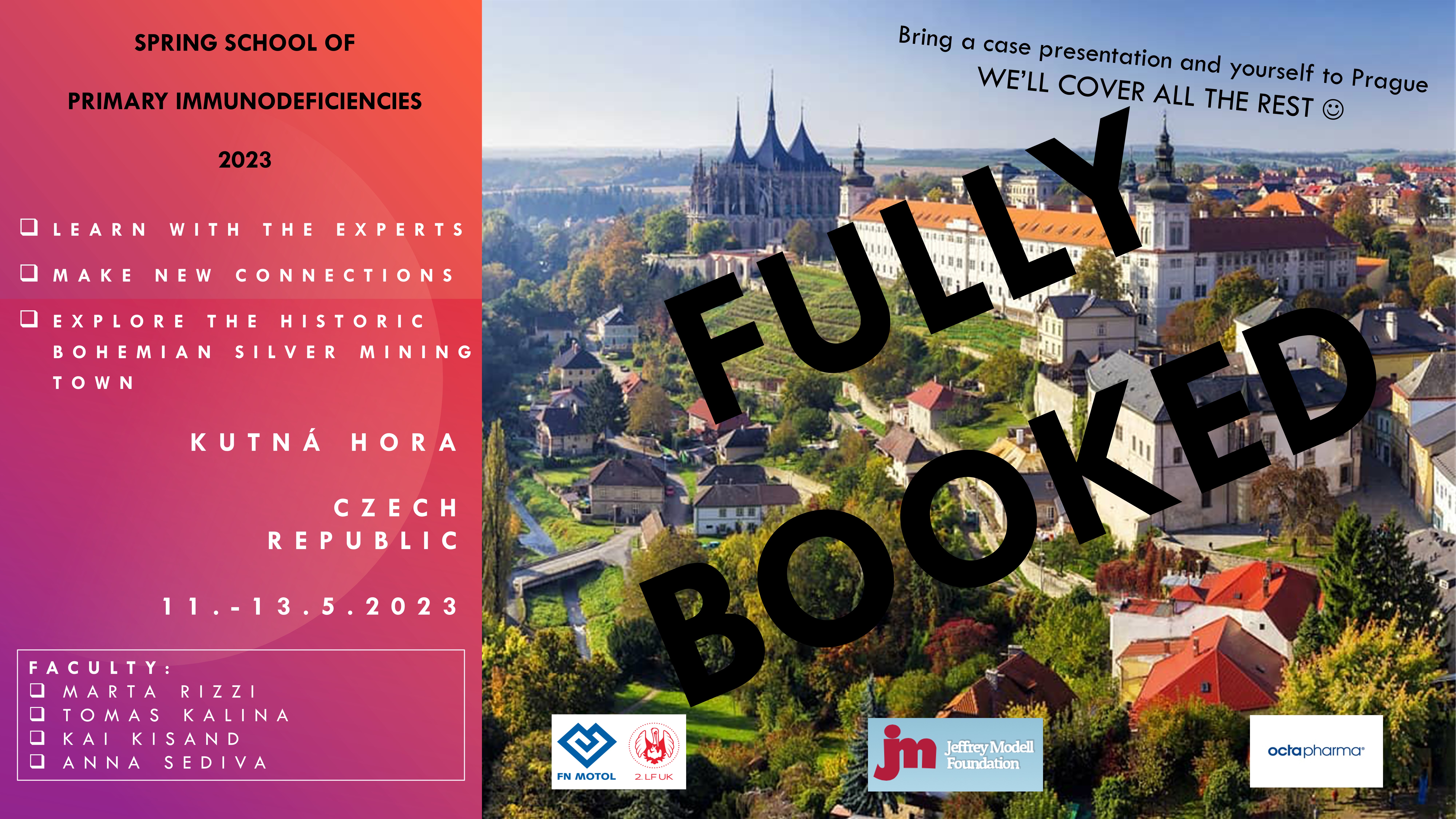 The 20th annual Spring School of Primary Immunodeficiencies invites those interested in the many aspects of inborn errors of immunity to take part in this traditional learning event held in a wonderful historic town of Kutná Hora in the heart of the Czech Republic.
Informal three-day bonanza of case presentations, topic overviews and discussions
Array of renowned speakers covering the field of primary immunodeficiencies from pathogenesis to diagnosis and treatment
Excellent social networking and rich cultural content
Programme
Thursday 11.5.
Morning + noon    Individual arrivals in Prague (note: you can deposit your luggage at the Department of Immunology at the University Hospital in Motol)
14:00            Departure from the Dpt. of Immunology
16:00            Arrival in Kutna Hora, accomodation
17:00            Opening ceremony + keynote lecture
18:30            Dinner + social programme
Friday 12.5.
8:30 – 15:30        Educational programme
18:00+            Dinner + social programme
Saturday 13.5.
8:30 – 11:30        Educational programme
11:30            Lunch
14:00            Estimated arrival in Prague
Registration
Thank you for your overwhelming interest! Unfortunately, this year's School has now been fully booked. We hope to see you next year!
Click through for a registration form HERE. Register soon, limited places are available.
Registration deadline: March 31st, 2023
Thanks to our generous sponsors we cover travel from Prague to Kutna Hora and back, accomodation and meals. There is no registration fee. We do, however, NOT reimburse travel to/from Prague, or individual travel arrangements from Prague to Kutná Hora.
Contacts
Please forward any inquiries to @email.
Organization team
Anna Sediva
Marketa Bloomfield
Adam Klocperk
Supported by Ilona Kyselova
Photos below